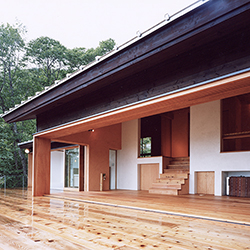 How do the clients have rich time on weekend...
The large deck is placed next to the 7m opening and the large room in sequence. Hence, the sliding doors are open, the inside and the deck becomes one space. The sunlight lights up the white wall...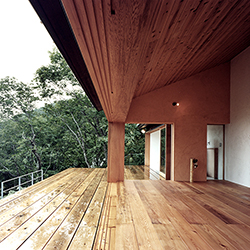 The large room is divided by the sliding door...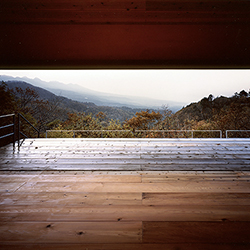 The change of the weather of the mountains has an influence on the inside trough the large opening...The atmosphere spreads into the inside of the house...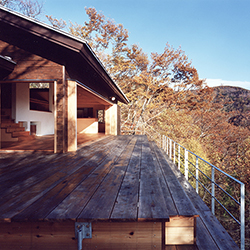 Mountains in the early morning...
The edge of the deck are formed like stairs in order to make the view from the inside clear...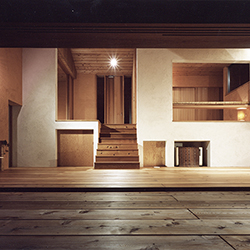 The space is completely different to the same space on daytime. The inside looks like a stage...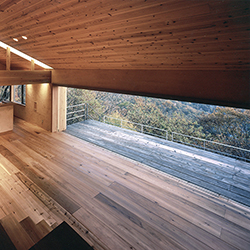 The landscape is brought into the inside...After that the space becomes one huge room...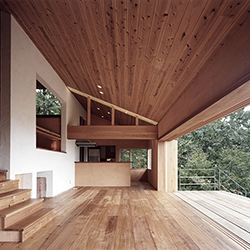 Large room
The existing cedar ceiling is reused. Some lightings are added on the ceiling. The surface of the ceiling describes continuation...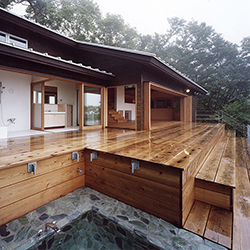 Bath room and open air bath
When the open air bath is used, the edge of the deck becomes a place for taking a rest...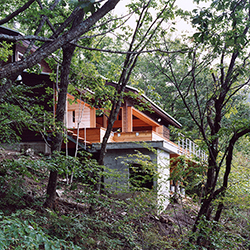 Facade
Spending time on weekend with rich forest...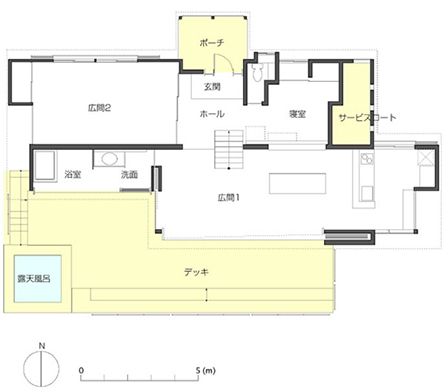 Holiday house, Tatesina Kogen House PLAN
・Holiday house, Tatesina Kogen House

Location  Tateshina, Nagano Prefecture
Structure  timber frame (partly concrete)
Term of design  2003.10~2003.04
Term of construction 2004.04~2004.08
Site area  500坪
Building area  98.95m2 ( building to land ratio 19.7%)
Total floor area  98.95 m2 (building to vollume ration 19.7%)