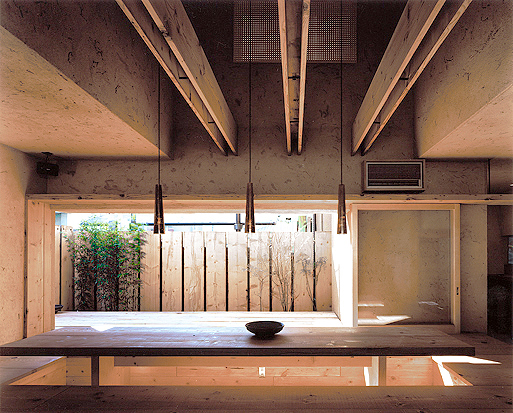 View from the courtyard to the large room...The deck is used as the extention of the large room.
The size of old beam is 10m(length), 45cm(width), 22cm(thickness).

It was divided into three pieces by a band saw. The clean middle part called Toro was used for making flooring, table and window frame. The other two parts were used for outside wall.

The beam is made by an Oregon pine. The grain of wood is really close. I used these sliced beams without any processing.

When wooden windows are opened, a large room and a courtyard surrounded by the wall become one big open space.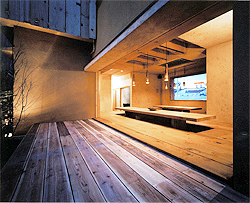 The 1.8mx5.5m large opening has the function of shelves...Kusaka seems to be an old Japanese traditional house...



The 4m large door is made from old material and iron.。This place is a porch. When the door is closed, the space changes from the outer space to a small garden.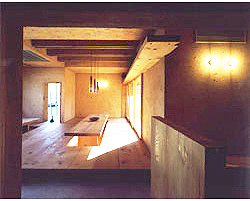 View from the earth floor to the large room
The finishes of the old wooden material are only oiled, and band saw patterns. It gives the surface real wood texture.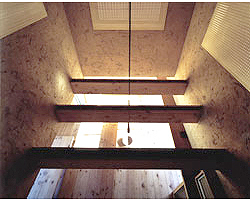 The western styled room was located over the large room. The room was removed partly to make a void.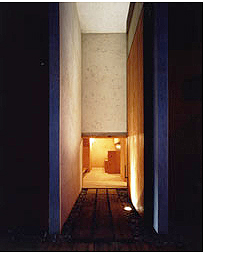 View from the road to the entrance. The upper lights light up the door that height is 4m. The door taks attention of people.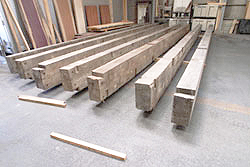 The 7 beams for Kusaka (Douglas pine, the width 22cm, the height 45cm, the length 9.5m) used to be used as beam at a timber frame structured primary school in Shikoku region.



Old material...The same old materials were used for the structure of another house. The old materials were boldly used as the structure of the eaves. And also it was used as 10m beams to support the large roof. The both of the textures became good quality...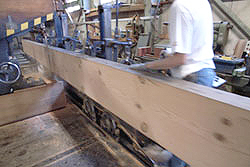 For making, flooring, table, frame of openings, counter, chair, walls ets, the old materials were cut into each part at a lumbermill.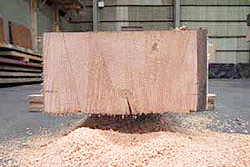 Even if the surface of the material looks old, the inside is new, and also the wood smells good...Because of recycling and reuse of the old materials, we could contribute to he promotion of reducing CO2...Let's try to do environmentally friendly activities!!