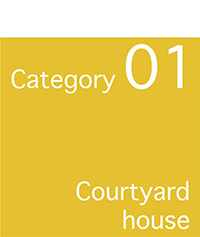 Courtyard House
.
House with courtyard...
I am interested in courtyards & outer spaces that are not completely enclosed.

People who live in cities need courtyards as both buffer spaces in order to keep privacy and also to feel other people's presence.

Usually, we need to make open spaces for the Building area ratio regulation.
However, I make the open spaces as courtyards.
In particular, I put a large volume on a site small spaces in cities as much as possible in order to bring natural light and wind to the courtyard.

As a result, the courtyard becomes the core of the house.

BREATH
Courtyard house with
pond and large timber


Kamishinden
Courtyard house with pond




Matsugahana
Courtyard house with large louver




Kasuga
Courtyard house living with firefly




Hishiyanishi
Courtyard house with
chiropractic clinic



Kitatsumori
Courtyard house with outer space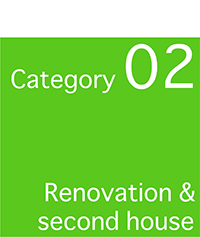 Renovation & Second house
with courtyard
In houses we can feel people's presence...
house with courtyard...
comfortable house using rich materials...
courtyard styled house which has connection between outside and inside...
attractive plan of courtyard house...
structurally and systematically stable house...
making open spaces for a long enduring house .....
Thus, I have so many interests...

However my main theme is how to make houses more lively...

I am good at bringging out the merits that the existing environments and sites already have.
There are many different types of environments such as the city, suburb and country.
Hence, there are also many different types of ways for making houses and buildings respectively due to different the varying conditions.
I quite often bring courtyards and outer spaces into my design, then most of the designs are related to a suburban-styled courtyard and a city-styled courtyard.

The courtyards are sometimes changed by the addition of a large door or a window.
It gives some change and enjoyable space to our life.

I would like to introduce courtyard styled renovations & holiday houses which I have designed.

Tateshina
Holiday house with
a distant view of the Yatsugatake



Takino
Courtyard House with earth floor




Kusaka
Renovated soba restaurant
by old material and mud wall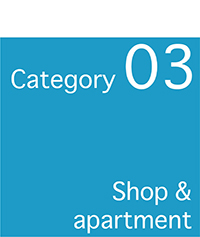 Shop & Apartment
with courtyard
The courtyard becomes the core of house, even if inhabitants are running their business from the house.
A large opening connects outside to inside, and it makes one space.

I feel the possibilities of the rooftop space.
Usually, the rooftop is not so attractive, but it is a good space for me.
For example, I designed an apartment which had a courtyard on the rooftop.
I explored the possibilities of these spaces then.
In this project, my solution was to build the owner's house with courtyard on the rooftop.
The whole apartment's structure is reinforced concrete is regarded as the house's foundation.
And the steel frame was assembled above the structure.
Thus the rooftop became an attractive space.
And this case might be a model for rebuilding old apartments and owner's houses within its apartments.

A courtyard could be important for a rooftop, shop, terrace...

Ai
Soba restaurant with
courtyard styled open space

Yuzato
Courtyard styled apartment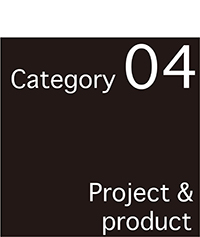 Project & Product
with courtyard
We are always trying many projects...
We would like to introduce you some of our projects...
When we are planning, we always care about a way to connect to a courtyard...

For example, a courtyard must be necessary in school planning in order to make comfortable spaces like a living room.
The same thing happens in designing offices, factories and houses...
There is one common theme in all cases that is to make open spaces.

According to this sense, a courtyard is definitely one of the open spaces.
How to make courtyards might be very important...

Products are made of sliced wood, they are lights but also can be an object d 'art.

Onodai
Courtyard house with pond
   


Kanouseiten
Guesthouse with courtyard




Gein
Courtyard house with roof garden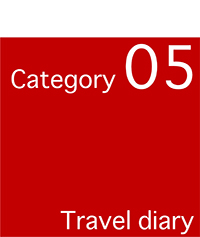 Travel diary
with courtyard
Introduction of villages and towns in the Mediterranean area (including South Europe, North Africa)...
Mountain cities, outer spaces, courtyards, plazas etc...

I traveled around the Mediterranean area for half a year, 20 years ago due to my interests which were villages, towns, and houses in the area.
Most photos were taken during my travels, and the number of films I used was almost 200...

the mountain cities in north Italy, white villages in the black barren land in Andalusia, Spain, houses which are made of mud bricks in Caspa, Morocco, courtyard-styled villages in Matmata, Tunisia.
They were very attractive to me.

I found various types of courtyard everywhere during my travel...
Each house I saw during my travel was very small, but they made one village, it had a big architectural power which I felt...

This feeling which still I have is the basis of my designs for house with courtyard...

ITALY- #1
Courtyard. Street space




ITALY- #2
Courtyard styled street village




SPAIN
White houses




MOROCCO- #1
Space with courtyard and pond




MOROCCO- #2
Courtyard house built
of adobe bricks




ALGERIA
Courtyard styled house
and street like maze




TUNISIA
Underground house and
courtyard house